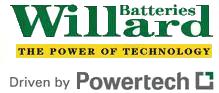 Pro Touch Batteries is the preferred supplier of Willard batteries in Pretoria and we have an extensive product collection that will suit any customer's needs. You can enjoy a variety of high quality batteries that are ideal for your automotive, truck, motorcycle, standby, solar, deep cycle or golf cart needs.
Having a reliable battery is essential; good quality products will deliver extended service and last significantly longer than cheaper, imported products. Pro Touch Batteries will personally fit any golf cart battery free of charge for customers in the Pretoria and Johannesburg areas. We offer the best pricing and service on all Willard batteries and we deliver anywhere in Pretoria.
Pro Touch Batteries is committed to service excellence and we will gladly beat any written quotation.